User-friendly and efficient planning of reliable radio networks with
CHIRplus_TC
---
Wireless service providers today see their radio networks as a strategic asset which determines overall operational performance and profitability. Professional design and planning of these networks is therefore fundamental. CHIRplus_TC provides comprehensive RF engineering capabilities to design and plan high performance networks. A highly intuitive graphical user interface ensures efficient and effective tool handling.
CHIRplus_TC can be used for planning of microwave links, wireless IoT (Internet of Things), 5G/4G (NR/LTE), PMR (TETRA, P.25, DMR), Smart Grids, etc.
Use Cases and Applications
Many challenges - one solution
Internet of Things (IoT) and Industry 4.0
The Internet of Things (IoT) and Industry 4.0 will have a major impact on our personal and professional life. All forecasts predict a significant growth of devices that will be connected to the internet. The variety of applications is endless, from weather sensors, parking sensors, automatic plant watering systems to connected streetlamps, mousetraps, garbage bins, soap dispensers and many more. As most of these devices operate wirelessly, they demand spectrum and connectivity. But not only the amount of sensors and devices will increase, there is also a growing number of standards and communication protocols such as LoRa, Sigfox, NB-IOT, etc.
The IoT planning tool CHIRplus_TC assists you in coping with the increased complexity brought by the variety of connected devices and IoT standards.
With CHIRplus_TC you can perform dedicated coverage analysis to assure that IoT devices will have sufficient connection and bandwidth for the respective application. The flexible data editor for the devices is able to accommodate basically all IoT devices and antennas. The software also comprises the relevant frequency plans for IoT communications. CHIRplus_TC analyzes specific parameters such as the LoRa spreading factors and displays them graphically for a clear overview of network and connection performance. For the verification and validation of coverage predictions, measurement data can be imported and compared with the simulations.
Microwave
Nowadays, spectrum is a scarce and expensive resource that needs to be used in the most efficient manner. Mobile operators spend huge amounts of money for spectrum licenses in order to provide the respective service to their clients. The radio networks rely on a stable and powerful backhaul network that is in many cases realized with the aid of microwave links. The great amount of complex demands of such networks requires a scalable and robust network infrastructure with cost-efficient construction, operation and administration. Also in the context of critical communications, fixed radio links play an important role.
To assist you in the design and realization of those networks, LS telcom provides the optimal solution: CHIRplus_TC is second to none when it comes to the user-friendly and efficient fixed link planning. For this purpose, CHIRplus_TC provides user-friendly editors and well-arranged planning windows. Within short time, you can create and analyze new microwave links. You will benefit from comprehensive technical libraries that allow you to choose from different device and antenna data. Manual data entry, which can be time-consuming and error-prone, is thus eliminated.
Furthermore, the planning window and the editor are linked to each other – changes in the editor (such as using an alternative antenna) lead to automatic recalculation of the link budget within the planning window. The responsible engineer can instantly see how the change affects the performance of the link. The link planning will therefore be much more precise and efficient.
With the aid of an up to date library of wave propagation models the following properties are calculated and considered:
Pathloss
Link availability
Adaptive modulation
Frequency- / space diversity
etc.
As soon as the performance of a microwave link has been secured, CHIRplus_TC supports you in analyzing the impacts of the new link to an already existing network. This helps to ensure interference-free operation, so that neither the new link causes interference at other stations, nor the existing stations cause interference at the newly planned link. Depending on the need of the user, different interference calculation methods can be applied. As national or international frequency plans are integrated into the tool, the engineer can examine the quality of the available channels, and can allocate an appropriate channel.
Mobile Service
The rapid growth in traffic volumes and service diversity associated with mobile technologies directly affects the size and complexity of the network. Consequently, mobile service providers require reliable tools to design the network so that it provides the required service quality for the respective users. For this purpose, LS telcom's tool CHIRplus_TC offers planning and optimization functionalities within.
No matter what kind of radio service (TETRA, P.25, DMR, 2G/3G/4G/5G, etc.) is relevant for you: CHIRplus_TC is your tool to analyze and optimize the performance of the network. The tool includes area calculations allowing you to determine which areas are covered by a base station, or by a single sector antenna. A network processor combines single calculation results to analyze the performance of the whole network. In addition, a powerful population analysis enables you to determine the area as well as the amount of people that are covered by the respective base station, sector antenna, or network.
This is how you can identify and eliminate gaps in areas that should have coverage. Especially safety critical radio networks such as TETRA rely on a technically flawless and hardened network. For this purpose, the calculation results may also be verified with the aid of measurement data. Make use of the integrated import functionality and correlate simulations with real world data. By this means, the propagation simulations can be fine-tuned and the transmitter data stored in the integrated database can be validated.
In order to avoid performance issues within a network, CHIRplus_TC offers powerful analysis methods to identify and eliminate potential interference reasons. Based on configurable wave propagation models and thresholds, CHIRplus_TC produces reliable results that can be documented in detailed reports.
No matter if you are analyzing microwave links or other mobile networks: CHIRplus_TC identifies potential conflicts and guarantees that the allocated channel can be used without interferences. For this purpose, you can make use of a channel assignment procedure that analyzes all channels of the underlying frequency plans and that enables you to select a suitable one conveniently.
Smart Grid
In order to cope with new challenges regarding the design of smart metering or SCADA networks, CHIRplus_TC assists you with an advanced functionality. Networks for a wide range of applications can be planned with the aid of our solution. No matter if we are talking about network connections for smart meters, transformer stations, water throughput control, remote inquiry or remote control units – by using CHIRplus_TC you can plan and simulate radio networks in a reliable and secure manner. During planning and conception, CHIRplus_TC takes into consideration all relevant technical characteristics as well as the network hierarchy of master, repeater and slave.
Why use CHIRplus_TC?
The key benefits of our expert software solution
Because it is flexible
Support of multiple radio technologies
Microwave
Mobile Service (TETRA, DMR, 2G/3G/4G/5G…)
Internet of Things
Smart Grid
Because it is efficient
Key Performance Indicators at a glance
Ultra-Fast Results using multithreaded Processing
Automatic document generation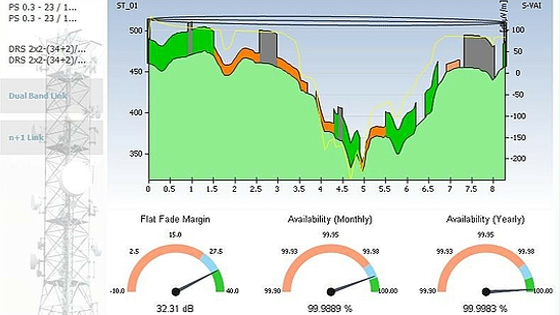 Because it is future-proof
Support of recent technologies (e.g. Smart Grids, IoT, etc.)
Continuous improvement and developments
Flexible architecture for planning of every type of radio equipment
Because it is secure
Certified web application security
Penetration test on a regular basis
Assessment based on OWASP Top 10
Because it is flexible

Because it is efficient

Because it is future-proof

Because it is secure
Watch the Wireless Telecommunication Network Story
Start Using CHIRplus_TC Today
Lease our software and profit from practice-proven radio network planning
Ready to dive deeper into our product & service portfolio?
Request an Online Demo and we will contact you to schedule a remote presentation